Business Partners in SAP Business One: Taking interaction tracking to the next level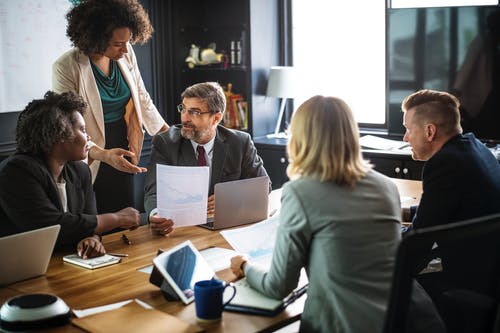 This post explores how SAP Business One helps businesses achieve a single view of customers and suppliers, and why getting your data in order can make a big difference.
Why do many businesses still struggle to achieve and maintain a single view of customers and suppliers?  
The first barrier for many small to medium businesses is usually 'islands' of information—where valuable data about customers and their preferences is kept within distinct departments, separate spreadsheets or paper-based files, or in the heads of experienced staff members.
That's one of the reasons an Enterprise Resource Planning (ERP) solution is appealing: not just to store customer information securely, but to actually use it to engage people, and analyse it to drive improvements and new opportunities.
SAP Business One makes it easier to bring all of your customer and vendor data together within one database that improves the flow of data across your team and makes information more readily available for in-depth analysis.
Gain a competitive advantage by collecting customer data in SAP Business One
Many businesses aren't able to reap the potential benefits of customer data.
A survey by Forbes Insights in 2018, which polled 400 executives across key industry segments in successful global companies, found 87 percent of executives are not confident they are leveraging all available customer data. The report showed those who do embrace customer data and analytics are seeing greater returns and are more likely to innovate and disrupt their market.
Being able to draw on customer data from multiple sources and channels can give your business a competitive edge. Numerous studies about customer data have shown that consumers are happy for businesses to use information about them in order to deliver better value, special offers, and personalised experiences.
This is not just a concern for marketing and sales. Customer and supplier insights have implications for functional and operational areas, and data is essential to help you learn, improve and grow your business.
Within SAP Business One, customer data underpins workflows so you can track and analyse all transactions and interactions, across your entire operation. That includes operations that span multiple business entities, spread across the country or around the globe.
Valuable features of Business Partner management in SAP Business One
The external organisations and individuals that you work with are known as Business Partners in SAP Business One. Workflows begin with a Business Partner: you need to identify the customer or supplier before you can drive a process, which ensures that your team's activity within SAP Business One is always attributable.
As you'd expect, each Business Partner has a profile that includes details like organisation name and contact information—which can include multiple contact persons, and addresses.
There are three types of Business Partner: leads, customers and vendors.
1 – Nurturing prospects in SAP Business One:
Accurate lead data is essential for managing new business opportunities. You can manage documentation like quotes, and record details of phone calls and meetings to ensure continuity across your sales process.
Because SAP Business One is a total business management solution, Business Partner data about leads flows seamlessly into sales and customer relationship management functionality, and between integrated e-commerce tools.  
2- Clearer customer view in SAP Business One:
Customer data in SAP Business One can be captured with precision. You can apply multiple attributes and linkages within the system that give you a clear view of each customer and an aggregated understanding of customer management and revenue.
For example, you can define attributes for a customer including:
Sales territory

Industry vertical

Whether they are a VIP customer

If they're entitled to a special rebate

Their unique trading terms
You can analyse and report on specific or multiple customers across your business based on these attributes. Sophisticated algorithms within SAP Business One group customers based on similar buying behaviours, which helps you engage customers by providing recommendations based on past purchases and shows other products that similar customers also purchased.
Within SAP Business One you can also access the Customer 360 advanced dashboard to help you dive deeper into key sales, logistics, receivables and other general information for any customer. The dashboard draws on aggregated data from across multiple touch points for one specific customer. Using Customer 360 helps you understand what a particular customer buys, how fast their deliveries usually arrive, revenue trends, whether they've deviated from credit limits, and the likelihood of losing their business (called churn probability). For more information, check this video:
3 – Valuable vendor data in SAP Business One:
Information about your suppliers and vendors is treated similarly to customers. You can add attributes for suppliers that help you manage and analyse their value to your business or how you usually interact with them, for instance:
Whether they're local or overseas.

The currencies they work in (SAP Business One handles multi-currency).

Their specific trading terms (e.g., 90 days, FOB).
Business Partner set-up enables more automated financial reporting
Because all of your customers and vendors are identified within integrated workflows, you can view their Business Partner profile to get facts about what they've bought or supplied, at what price and when, what they owe, and issues they've had—a complete history of their dealings with your enterprise, even within a complicated network of sister companies, multiple divisions, and branches.
In addition, the system can connect Business Partners and general ledger accounts through control accounts that can be defined during the process to establish your ERP solution.
Multiple sales channels, customers, warehouse and business entities can be laid out in a matrix during the ERP implantation stage to deliver the reporting outcomes you're after, with all sales and purchasing transactions automatically posted to the right control accounts.
You can then access the overall balance, balance for customers and the balance for vendors in one GL account, or the balances for specific Business Partners.
Get a complete picture of customer data with SAP Business One
You need to know about your customers in order to make each of their interactions with your business a positive one. Collecting, consolidating and applying customer data effectively requires a holistic approach to information-sharing across your business.
SAP Business One gives you an integrated view across your whole business, ensuring customer data can be used to deliver superior service, and analyse and report on your performance more easily.
Ready to eliminate silos and get consolidated customer data? Talk to Leverage Technologies about SAP Business One: call 1300 045 046 or email info@leveragetech.com.au.