Scaling your medical and dental supplies business with SAP Business One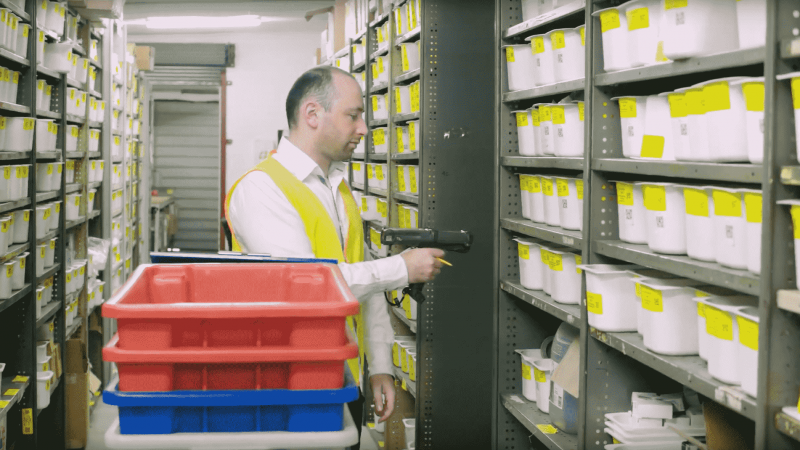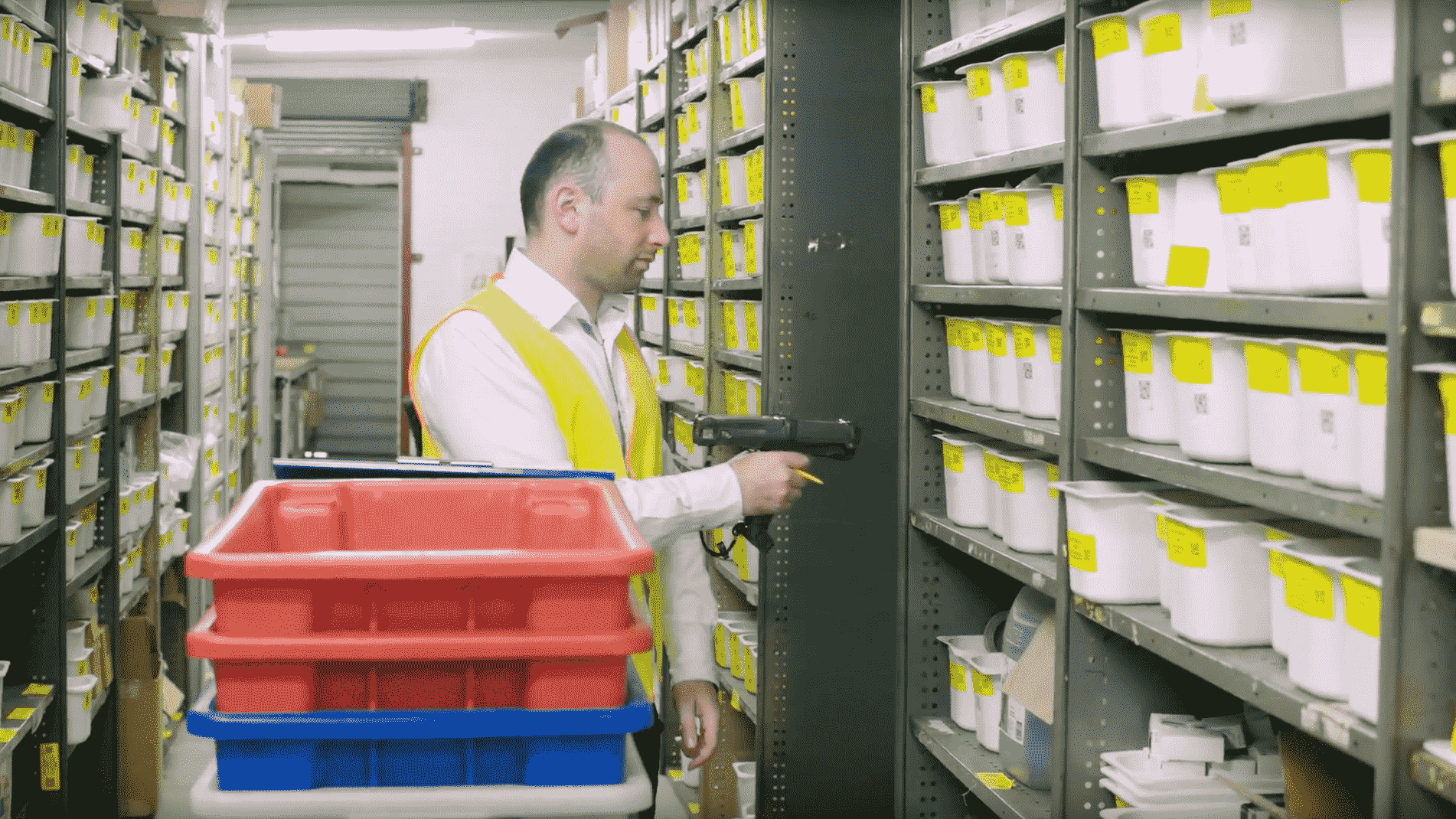 With a history dating back to 1979, W9 Australia is one of the nation's most well-known importers, distributors and wholesalers of medical and dental products. The business supplies consumables and instruments to both public and private sector businesses, including government clinics and health funds.
In 2004, the business determined that its previous software was restricting its growth, and wasn't offering the insight or level of detail they required. W9 decided to implement SAP Business One.
The result? Find out in this video case study.
The challenge for W9
As a business, W9 prides itself on always having the most innovative and up-to-date IT infrastructure, so they can operate as productively as possible, and provide the best possible service to their global customers.
Prior to engaging Leverage Technologies, W9 found their previous software wasn't delivering the scalability – nor the control – the business needed. The business was growing quickly, and its previous technology wasn't keeping up.
"We were looking for a scalable, robust ERP system that would enable us to grow, and which would provide us with strong financial control, strong inventory control and strong distribution," says Noah Shroot, Manager at W9.
"We also needed strong features in terms of inventory control, batch tracking, stronger financial controls and better distribution capabilities," he adds.
Partnering to find a solution
Leverage Technologies was engaged by W9 in 2004 and has continued to be a trusted partner for the past 13 years.
"Leverage Technologies have offered us very strong support and have been able to continuously enhance our SAP Business One environment to suit our business needs," says Shroot.
The first task for Leverage Technologies was to address some of the immediate issues which W9 were facing with their SAP Business One implementation.
"We were able to work with W9 quite quickly to resolve the issues they were facing around reporting, business processes, training of staff members, and integration of point solutions to enhance the process," says Warren Roberts, Professional Services Director at Leverage Technologies.
"SAP Business One is a powerful ERP package entrusted by companies in over 55,000 companies in 150 countries. We were able to enhance W9's solution with a number of tightly integrated point solutions – for example, their Resolve warehouse management solution, as well as interfaces to their e-commerce website, and more."
The new SAP Business One solution also enabled W9 to enhance its inventory management – ensuring rigorous tracking and control.
"Being a healthcare and medical distributor, it's really important that we have strong serial and batch tracking on our products and SAP Business One allows us to do that, in conjunction with our Resolve warehouse management system," says Shroot.
"SAP Business One is very good for this industry as it has very good inventory control and very robust serial and batch tracking, reporting and traceability. We also find that our stock levels are very accurate by using the scan feature," he adds.
As a result of the new system, W9 has been able to streamline its picking, packing and fulfilment of orders, shorten the 'order to cash cycle', and evolve its procurement and supply chain logistics.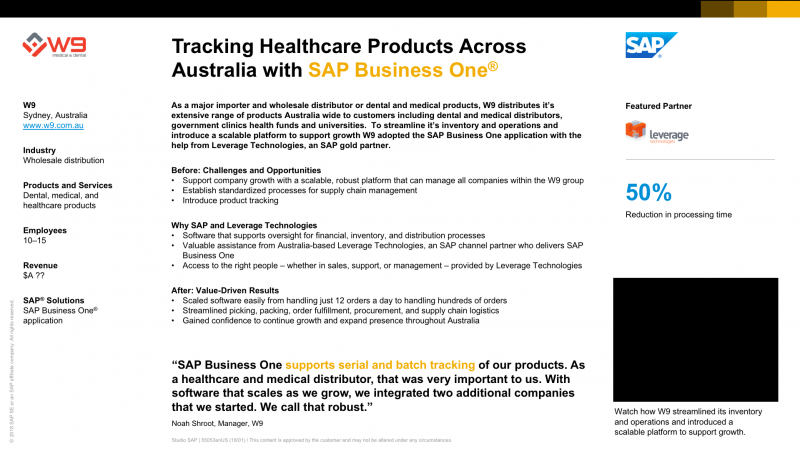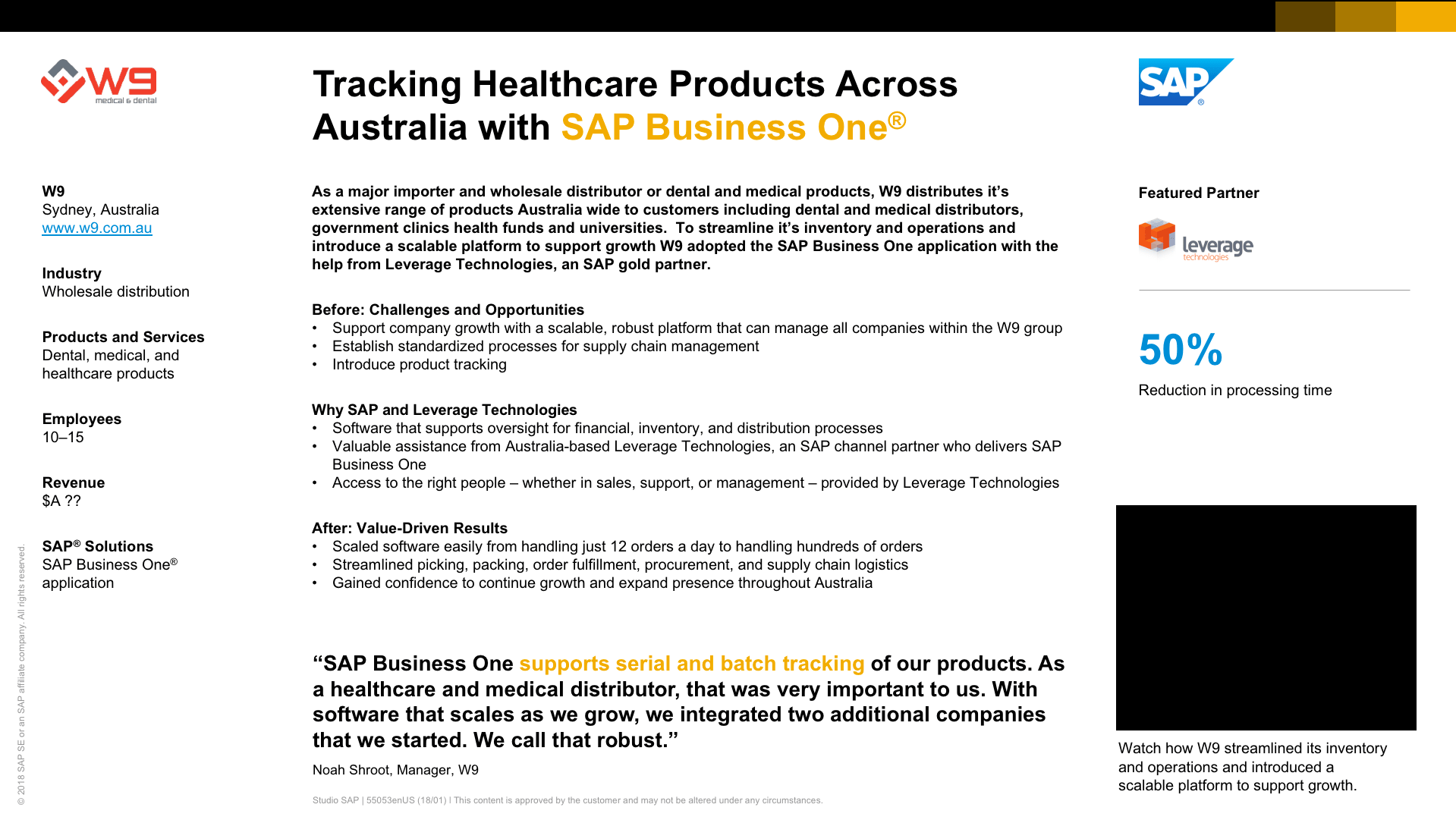 Outstanding results
Since implementing their SAP Business One solution, W9 has enjoyed a range of benefits, and thanks to enhancements by Leverage Technologies, the business has reduced its overall order processing times by 50%.
"One of the beauties of SAP Business One is that SAP is continuously developing and improving the product and bringing new technologies into the system, and that's why we continue to use SAP 13 years on," says Shroot.
"SAP Business One has handled our growth seamlessly. It has scaled really nicely with our business. That's a business that was doing maybe a dozen orders a day to now doing hundreds of orders a day, and the additional investment has been minimal. Everyone in our business uses SAP Business One; that goes from management through to finance through to customer service, through to sales," he adds.
"The future for us is growth, with an increased footprint around Australia and we are continuously looking at new and exciting technologies and innovations which is very exciting for us."
How can Leverage Technologies help?
If you operate a manufacturing or wholesale distribution business, you need the right technology in place to help you maximise efficiency and profits.
As a trusted SAP Partner, Leverage Technologies has extensive experience in deploying SAP Business One for a range of businesses, and across several industries. We can perform consulting, implementation and support for your Cloud-based or On-premise SAP Business One project.
To find out more about SAP Business One, book a free demo today, or give us a call on 1300 045 046.