Keep valued customers with advanced 'Available to Promise' in SAP Business One
Discover how Advanced 'Available to Promise' functionality ensures that you always meet customer demand, available within SAP Business One on HANA.
Acquiring new customers is a costly exercise. Doing your best to retain the customers you've already got is an essential strategy to grow your revenue over the long term.
Focusing on customer retention and providing a great customer experience builds the kind of loyalty that leads to more sales: both through increased spend from existing buyers and as a result of their glowing referrals.
Marketing studies show it costs far less to retain current customers, and that existing customers are 50% more likely to try new products and spend considerably more—meaning that even a small increase in retention rates can drastically boost profits.  
However, keeping current customers happy isn't always straightforward. For businesses with complex supply chains like manufacturers and wholesale distributors, your efforts can be hindered by poor inventory management, and associated operational and business processes.
SAP Business One implemented with the SAP HANA in-memory database makes it easy to know what stock has been committed and prioritise fulfilment for your most important and profitable customers.
Advance your ability to meet customer demand with SAP Business One on HANA
SAP Business One is a trusted enterprise solution designed for mid-sized businesses that hold stock. Combined with the data processing speed enabled by SAP HANA, it becomes simple to generate and act on 'Available to Promise' (ATP) information within an integrated system.
In less mature business systems, typically you could only manage orders on a first-in, first-served basis. That's because there's not a clear view of which sales orders have been committed and processes are arranged around delivering in the sequence that orders were received.
SAP's Advanced Available to Promise (Advanced ATP) feature offers reliable data about your capacity to fulfil orders based on available quantities and delivery due dates—and allows you to manage orders via a highly interactive user display.
The Advanced ATP functionality in SAP Business One and HANA enables your business to:
Establish rules that trigger system actions in the case that you're running short on stock.

Look at your orders, availability and future scope at a high-level to develop a delivery plan.

Use an overall delivery management screen to make changes on the spot.

Flag which clients are your top priority in the customer's master data.

View your upcoming deliveries based on sorting by priority customers.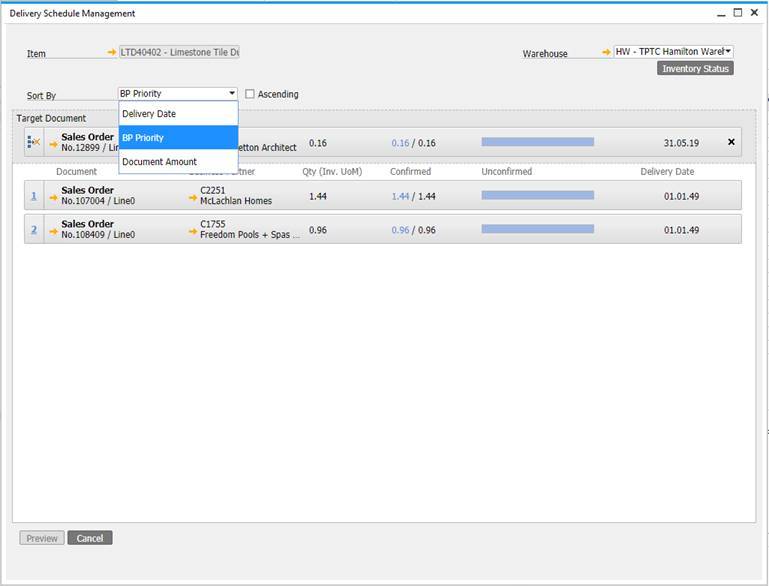 SAP Business One Advanced Available to Promise: View upcoming orders based on priority orders.
Gain real-time, detailed insight into how you can meet customer demand and proactively manage deliveries to ensure your most loyal customers are taken care of.
[FEATURE ARTICLE – Achieve the perfect balance between inventory and sales with SAP Business One]
More seamless order and delivery oversight is key to satisfied customers
Some customers deserve special treatment: such as our oldest and dearest; our most regular and quick to pay; and our high volume and most profitable customers.  
The Advanced ATP feature in SAP Business One on HANA makes managing supply and demand more seamless, so you can prioritise orders, nurture your most valued relationships, and run a leaner operation.
For example, you can create a rule that ensures that when there is plenty of stock available the sales order is automatically flagged as committed in the system.
Another rule for when stock levels are too low would trigger an alert and pop-up screen, prompting the user to make a decision about the next steps, which might include:  
Splitting orders to deliver in-part, or make items available for a higher priority customer.

Putting an order on hold until you have enough stock for it to be delivered in full.

Changing the priority and delivery date of orders to meet different demand requirements.
The Advanced ATP screen in SAP Business One on HANA provides rich reporting and control via a graphical interface. You can see an overview of items committed, by warehouse, and a timeline that runs along the bottom indicates the expected delivery date. Stock availability issues highlighted in red.
From the same screen, you can quickly drag and drop orders to change their sequence, reduce amounts, hold and un-commit. Best of all, you'll know your decisions are guided by comprehensive and real-time visibility of inventory and customer needs across the business.
When it comes to quickly making decisions to ensure you meet customer demand smoothly—and in particular your most valued, repeat customers—it pays to have more than a static ATP report.
Talk to Leverage Technologies about Advanced Available to Promise and other benefits of SAP Business One implemented on HANA. Contact our team today.