3 Ways SAP Business One Will Enhance Your Production Management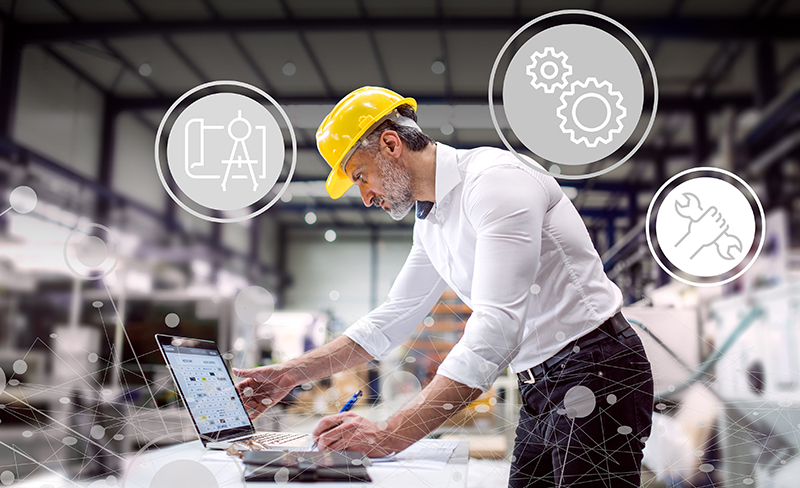 Discover how adopting SAP Business One to capture and leverage information will improve your production processes and every aspect of your business.
Operational efficiency in manufacturing is essential to deliver on customers' orders, maximise uptime, and build a more profitable business. But how do you take a production line that's already working well and make it truly great?  
Technology and automation are raising the bar when it comes to the design of facilities, and the application of machinery and tools to produce finished goods. But robots and hardware aside, you have to run your operation in smart ways.
Your ability to make the best use of resources and create quality, cost-effective products often comes down to having the right information at the right time.
After all, doing the wrong things—but faster—does nobody any good.
An Enterprise Resource Planning (ERP) solution is an excellent way to create a single source of truth. When data is accurate and accessible, it's easier to harmoniously manage interdependent tasks and gain the insights you need to analyse and improve production management.
SAP Business One is the choice of many progressive manufacturers. SAP's ERP solution makes data available to drive better decision-making at every stage of production.
Take MRP to the next level with SAP Business One
The production management capabilities in SAP Business One allow you to understand supply and demand, consider capacity restraints, and optimise your production scheduling.
Advanced Materials Requirement Planning (MRP) functionality helps to drive procurement decisions and allocate inventory against specific production orders. You can determine your ability to complete goods by a certain due date with greater precision.
The system helps you calculate components required to produce goods with sophistication, accounting for factors like units consumed during set-up, or the time required to re-tool a machine before each run.
A better picture of overall demand and the possibilities based on available resources helps you run a leaner process. You can hold less stock, confidently manage re-ordering, and know the right time to release production orders to the shop floor for just-in-time workflows.
Ensure the product is built right with control over BOMs and production orders
Enhancing your production line is important for process, discrete and configure-to-order manufacturers. It's especially vital for businesses with complex routing and multiple sub-assembly stages that need to be carefully coordinated to avoid bottlenecks.
You can create Bill of Materials (BOM) in SAP Business One, including multi-level BOMs that help simplify complicated assemblies.
Lets' say your company produces the large oil tanks that are used on transport trucks. You can define multi-level BOMs that cover sub-assembly processes like producing the ladder that attaches to the side of the tank.
Or perhaps you want to spread the work to produce different parts of one product across multiple production lines. Overarching BOMs can bring together a range of sub-assemblies with their own production orders under one master production order.
When it comes to Production Orders in SAP Business One, there are several types you can define:
A straightforward production order based on a BOM or multi-level BOM;

A dis-assembly production order where you receive a complete item and dismantle it to component parts; and

A special production order not tied to a BOM when you are developing new products or building custom goods where you configure the design as you go (resulting in a BOM).
To ensure accuracy during production, within every production order you can include:
Staging/routing:

Clearly outline a process that may run over a number of steps, over many days, with different timing involved at various stages.

Materials and inventory:

Tag or assign materials and items (which can also be batch tracked) to each route, so workers can see the type and quantity of product needed at each step.

Machinery and people:

Assign the machinery, people, and services to each route that are required to manipulate items to produce the end product.

Instructions:

Add detailed notes about specific tasks or methods to complete as part of the production process, at each step of the process.
[FEATURE ARTICLE – 7 Ways SAP Business One improves the manufacturing process]
Take production line effectiveness to the next level with SAP Business One
You need to know there's a problem in order to modify your processes and find improvements.
SAP Business One is a complete solution. That means all aspects of how you run your business can be seamlessly linked including finance, sales, purchasing, production, inventory, and distribution.
Eliminating data silos means once you capture information about your production process it can be used within the business to do comparisons, identify trends and undertake continuous improvement.
For instance, you can see the difference made when different team members are on the line. Or compare variations in BOMs—such as using components sourced from different suppliers—to determine which is best suited for a quality end product.
The system calculates the cost of producing items and posts variances. That helps your team see the true cost of each production run and identify opportunities to improve what's happening on the shop floor or adjust margins.
[FEATURE ARTICLE – The A-Z of running a manufacturing business with SAP Business One]
No matter what you make, SAP Business One will make your process better
No matter what you make: multiple steps, people and components are involved. There are so many variables and decisions to be made about how to balance inputs, people, processes and time, in order to meet your customers' needs.
Without integrated systems underpinning your business, you can't expect to profoundly improve and refine production. With SAP Business One you can manage the entire life cycle of an order from sales through to the goods being completed, all within one integrated system.
Looking for reliable insights to go from good to great in your business? Talk to one of our expert SAP Business One consultants today.